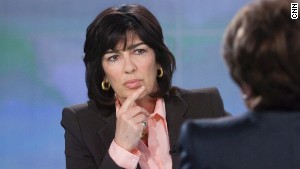 Editor's note: Christiane Amanpour is anchor of CNN's "Amanpour." This open letter to the girls of the world is part of the "Girl Rising" project. CNN Films' "Girl Rising" documents extraordinary girls and the power of education to change the world. Watch it June 16 on CNN.
By Christiane Amanpour, CNN
(CNN) - Dear Girls of the World,
There are more than 7 billion people in the world. Half of them are women and girls.
Just imagine the whole world rising, as it will, when all women and girls are empowered.
It has to start with education. All the number crunchers have it right on this one: education = empowerment, from here in the United States to Uruguay and Ulan Bator.
The United Nations, the World Bank and any organization you can think of say that an educated girl is a girl who can get a job, become a breadwinner and raise herself, her family, her village, her community and eventually her whole country. All the stories and statistics show that a healthy society is one whose women are healthy and productive.
Look at what women and girls are achieving for Rwanda, 19 years after the genocide there. The country leads the way in Africa in every way: education, health, the economy, the environment and in elected politics, powered by the force of its women. It is an amazing story. In contrast, the Arab world, which is so rich in natural resources such as oil and gas, is way behind in all development indicators, because half their populations, their women, are denied basic rights. It's why the Arab Spring must liberate and fully empower women, for the good of those countries.
FULL STORY