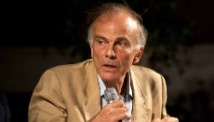 Editor's Note: Occasionally, In America looks at global incidents to examine how other countries are grappling with identity and what America can learn. With taunts of the first black Cabinet member in Italy, followed by the disruption of a soccer game after another racist incident, Italy is in the news lately. James Walston is chair of Department of International Relations at the American University of Rome. He founded AUR's Center for the Study of Migration and Racism in Italy in 2008 and blogs at Italian Politics with Walston.
by James Walston, special to CNN
(CNN) - Recently, Cécile Kyenge, Italy's first black cabinet minister, was insulted by the xenophobic Northern League within hours of her appointment.
On Sunday, Roma soccer fans shouted racist insults at Milan's Mario Balotelli, who is black, and also one of Italy's  national squad's top strikers.
One of Italy's old self-images was italiani brava gente – Italians are decent folk. But that ingrained idea is being challenged by recent events and history.
In 1938, Italy  passed the Racial Laws which discriminated against Italian Jews.
After the second World War, Italians looked at Mississippi and Alabama or Watts later, and then Brixton in London and complimented themselves on not being racist "like the Anglo-Saxons."
While there were no race riots or lynchings in Italy, there were also few nonwhites. A surname, an accent, a slightly lighter or darker complexion proclaimed a person's origin, but all were Italians. The only nonwhites were diplomats, actors or priests in Rome and the occasional businessman in Milan: all privileged people.
In the 1980s, Italy changed from being a country of emigration to having immigrants; a trickle at first, mostly from Eastern Europe.
In the 1990s the trickle became a flow, from neighboring countries like Albania and Romania in Europe, from Morocco in North Africa.
By 2000, the overall numbers were increasing, but tolerance appeared high. Carlton Myers, a basketball champion with an Anglo-Caribbean father and Italian mother, was the Italian flagbearer at the Sydney Olympics.
There seemed to be very little racial tension, at worst an insulting insensitivity –like the Turin daily La Stampa referring to Japanese cars as "yellow" – they didn't mean cabs.
But over the past decade or so, the number of immigrants has risen dramatically, from just over a million to just under 5 million. And the Italian-born children of immigrants cannot become citizens until they are 18, even though their first language is Italian (or more often Neapolitan or Bergamo or Bologna dialects).

During an expanding economy, the influx was not as bad as it appears now. Since 2008, the economy has been in recession and the number of jobs has decreased for all, especially the young. At the same time, many immigrants have integrated, set up businesses, become citizens and come to expect equal treatment.
These two factors are threatening for those Italians who feel insecure either in their jobs or their social position. And there are those who, like the Northern League politicians, want to exploit that fear.
To them, a woman such as Cécile Kyenge would be acceptable if she was a docile house servant rather than the successful eye surgeon and now a cabinet minister: that is threatening.
Even in America, with decades of efforts to overcome racism, there were many who still found the idea of a black president very disturbing. They could not use overtly racist language so used substitute words like "socialist."
In Italy, the former Prime Minister Silvio Berlusconi referred to Obama as "suntanned" and complained that Milan now looks like an "African" city. His language gives a license to others to use similar language to describe nonwhites.
But the changes in the United States and the rest of Europe over the past 40 or 50 years mean that the license is not unconditional.
There is a part of Italy which is indeed brava gente, but there is still a long way to go before a black cabinet minister or black soccer player is considered truly "Italian."
The opinions expressed in this commentary are solely those of James Walston.