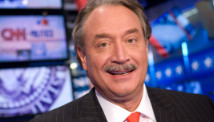 Editor's note: Alex Castellanos, a Republican strategist, is the founder of NewRepublican.org. Follow him on Twitter: @alexcast.
By Alex Castellanos, CNN Contributor
(CNN) - The images still inspire. Children sitting on their parents' shoulders amid a sea of American flags, fluttering on a cool Chicago night. A young black woman running to get as close as possible to the stage.
On November 4, 2008, Grant Park absorbed the world's focus: Barack Obama was elected president of the United States.
His victory speech stopped the Earth from spinning, if only for an evening, and drew the world's attention to an America where anything was again possible. Obama's victory energized a pulsing crowd of a hundred-thousand, their dream deferred no longer. Journalist Lois Wille called it "a great big huge happy evening" that would perhaps "wipe the memory" of a more divided America away.
Still, the podium was wrapped in bulletproof glass. Chicago charged all its 13,500 police officers with protecting America's great hope. It sent firefighters home wearing their uniforms so they would be ready to respond. We were not sure the promise and possibility of that moment was shared by every American. Yet that clear night, we celebrated the peaceful transition of power and the dawn of a different day.
This is a good country, full of good and great people, dedicated to an extraordinary American promise, our commitment to equal opportunity for everyone. That evening, even the most hardened partisan hearts could feel it. Our country had taken a step forward in racial relations, a big step, something that spoke of what our nation might yet become. A good nation had become an even better one, where the scars of some old wounds had healed and the pain of intense divisions, though not forgotten, had receded farther into memory.
Now the world is stopped no longer. How did we get from that America to this?
FULL STORY