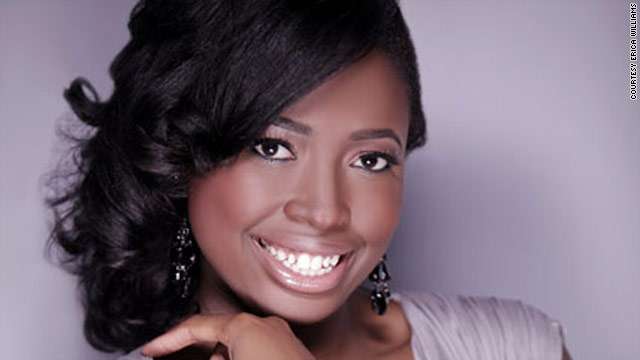 Editor's note: Erica Williams is a social impact strategist and World Economic Forum Young Global Shaper. She is the CEO of EWS Strategies, a social impact consulting firm that works with high-impact businesses and next generation leaders.
By Erica Williams, Special to CNN
(CNN) - Millennials have gotten a bad rap lately.
Despite much evidence to the contrary, we are seen as selfish and entitled, with little regard for the actual values that we espouse and the socio-economic context in which we live.
But a recent Telefónica-Financial Times Global Millennial Survey - which spoke to more than 12,000 adult millennials, including 1,000 Americans - adds insight to not only what millennials believe, but also what they are doing as a result of their beliefs.
In a world with unrepresentative governments, rising economic gaps in a fluctuating economy, and persistent gender gaps, millennials are blending new ideas about work with their desire to change the world to confidently face harsh societal realities and realize their vision for a brighter future.
As a millennial woman who works to help businesses and young leaders do good and implement innovative social change projects, I have spent the better part of my career working with ambitious, mission-driven millennials.
I know all too well the economic, societal and environmental pressures that this generation faces.
For almost a decade, I worked as an advocate and young nonprofit leader, tackling these and other issues and had begun to achieve professional success
But a year ago, I began to feel an itch. I started to ask myself a series of questions that became louder day by day: Am I fighting these obstacles and pursuing justice as creatively as I know how? Are there new – better and faster – ways to change the world? Am I really making a difference – and doing so in a way that allows me to live a full, financially stable life?
These questions – about money, creativity, work-life balance, and innovation – are often regarded as entitled and self-centered.
But they are far from it. They are a logical and empowered response to a world in which amazing tools are at our fingertips and unprecedented pressures are on our shoulders.
For me, the answer to those questions pointed clearly towards entrepreneurship. Since launching my social impact strategy firm, I've discovered an exciting, inspiring world where fellow millennials from all walks of life are digging in, creating unconventional jobs and applying their unique generational knowledge to the problems of the day.
I have met Rachael Chong, the young female CEO of the volunteer matching startup Catchafire. Emily May, a next generation feminist that has created a tech-centric model to end street harassment, is sparking a global movement.
I have been inspired by the ideas of the Echoing Green's Black Male Achievement Program's young fellows, and awed at Tasha Bowens, a former colleague who quit her 9 to 5 to move to a farm and start a sustainable agriculture organization focused on food justice.
It is also interesting to note how many of the leaders that I have met and worked with are women. According to the survey, American men are twice as likely as women to be "millennial leaders," a category that the study defined by their access to technology, their belief in their country's future, and their perceived entrepreneurial opportunity.
In the midst of a national conversation about women in the workplace and the growth of women-led startups like Girls Who Code focusing on girls and technology, Telefonica's survey revealed some interesting gender gaps with regards to entrepreneurship and technology.
Only 16% of women strongly agree that they have opportunities to become an entrepreneur or develop and bring an idea to market, compared to 22% of men.
Only 22% of women believe that technology plays a critical role in shaping their outlook on life compared to 39% of men. Also telling is that 69% of women consider themselves on the cutting edge of technology compared to 80% of men.
Yet even in the face of these disparities, young entrepreneurs are plugged in. The average millennial spends six hours a day online.
These entrepreneurs are diverse, passionate and carving out careers that many of their parents wouldn't have been able to understand five years ago.
While some of these stories and those that make the covers of magazines are uniquely privileged and "first world",  they speak to a spirit and ethos around entrepreneurial mission-driven work that is being manifested across cultural, economic and geographic lines.
Our desire to fix things through our work and ideas is born of our circumstance.
Telefonica's survey confirms that many of us remain supremely confident while doing so.
74% of millennial leaders believe that they can make a global difference, according to the survey. Over half of this group believe that their country's best days are ahead of them.
So what? Millennials are entrepreneurial and cause-minded. Is there really an actionable takeaway for the rest of the world? Absolutely.
Anyone working with millennials, trying to engage them, or working on the same global challenges using more traditional methods, should take note and appreciate the value of cross generational collaboration and hybrid models to make an even bigger impact.
Organizations like the United Nations Foundation, Clinton Global Initiative and even the White House are starting to take advantage of this generation's spirit and know-how. The opportunities for existing organizations to embrace and partner with this generation to change the world are endless.
And so are the possibilities for the future.
The opinions expressed in this commentary are solely those of Erica Williams.