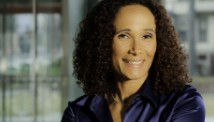 Editor's note: Tricia Rose is the incoming director of Brown University's Center for the Study of Race and Ethnicity in America, where she teaches Africana studies. She is the author of "Black Noise: Rap Music and Black Culture in Contemporary America" and "The Hip Hop Wars: What We Talk About When We Talk About Hip Hop - And Why It Matters."
By Tricia Rose, Special to CNN
(CNN) - As Paula Deen's apology tour continues, it becomes more and more disturbing to watch.
With each heartfelt tearful statement, Deen seems completely uninterested in the broader contexts of her comments, missing ample opportunities to address the reality of racism today both in the form of cultural and social interactions, but even more powerfully by policies and actions.
I heard her speak very little about the extraordinary injuries and injustices black people face, I have not heard her show alliance with those who fight racism nor show solidarity with or compassion for black people based on the profound impact racism has on their lives.
FULL STORY