By Nick Valencia and Leslie Tripp, CNN
Dalton, Georgia (CNN) - Pastor Ernesto Mendez looked over his congregation as sunlight poured through the windows of the Iglesia Bautista Nueva Vida church one recent Sunday afternoon. The church was celebrating its 30th anniversary, and some 300 parishioners, nearly all of them Latino, were there to hear the service in Spanish.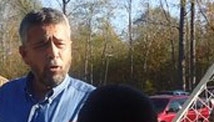 On a projection screen behind them, there was a sentence in Spanish: "God sent Rev. Ernesto to Dalton for us."
In this small southern town near the Tennessee border, it's not uncommon to see huge crowds of Latinos gathered at church, at work or in school. The Latino population grew for decades as workers came to work in the city's carpet and textile industry. As of 2010, 48% of the city's 33,000 residents were Latino, according to the U.S. Census.
But Georgia's new immigration law, known as HB 87,  has caused some concern for Dalton's Latino community. The law has been in effect about six months, though some of the strictest parts of the bill are under a court challenge. Those provisions would give officers the right to check for citizenship during a criminal investigation or to penalize someone knowingly transporting illegal immigrants during the commission of a crime. Speeding or driving without proper equipment could be considered crimes.