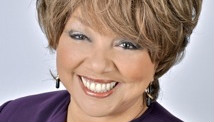 Editor's note: Carole Simpson is the leader-in-residence at Emerson College's School of Communication in Boston, where she teaches journalism and communications classes. She is the first woman or minority to be the sole moderator of a presidential debate and chronicled her 40 years as a broadcast journalist in her memoir, "Newslady."
By Carole Simpson, Special to CNN
(CNN) - Should there be any doubt now that women can handle presidential debates as well as men? That they can conduct a live television event that lasts for 90 minutes before an audience of 60 million viewers? That they can be smart, bold and professional in dealing with the men who would be president and vice president of this great nation?
No. There should be no doubt at all. CNN's Candy Crowley and ABC's Martha Raddatz have finally banished that old false notion that "men are better" to the grave it deserves.
Of course, after former PBS anchor Jim Lehrer lost control of the first presidential debate in Denver, Raddatz and Crowley were masterful in comparison. Lehrer, the journalist who was moderating his 12th presidential debate, at times threw up his hands in exasperation as President Obama and former Gov. Mitt Romney ignored the guidelines on time limits for statements and rebuttals. The testy rivals wrested the debate away from Lehrer, and he was pretty much reduced to the role of a potted plant.