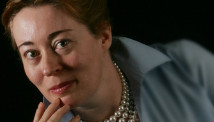 Editor's note: Catherine Allgor is a history professor at the University of California at Riverside and an adviser to the National Women's History Museum. Her latest book is "The Queen of America: Mary Cutts's Life of Dolley Madison" (University of Virginia Press, 2012)
(CNN) - There was a time when first ladies and first lady hopefuls merely stood smiling beside their blue-suited husbands, waving to cheering crowds. Their "press" was limited to an article in a women's magazine, with perhaps a few recipes.
Now they are scheduled and much-anticipated speakers at the Big Game, the main event for one night of the party conventions - as Michelle Obama will be Tuesday evening.
In this piece, we'll see the video highlights of speeches by candidates' wives in the past 20 years and analyze their meaning.
Speeches by spouses are one of the many aspects of American electoral politics that puzzle the rest of the world. As a reporter from VG (The Way of the World), the largest newspaper in Norway, was heard to ask, "What do these women do that their men can't?"
In many western European contests, the voting public doesn't even know the names of the candidates' families - but that's never been true in America. From the first, presidents' wives have been the focus of the public eye, much to the chagrin of Martha Washington, who never wanted her husband to be the leader of the new republic. Abigail Adams, wife of the second president, John Adams, had no time for "the people" and their curiosity about the family that led the nation. It would not be until Dolley Madison became the figurehead for her reticent and uncharismatic husband, James, that a new role for the first lady was born.