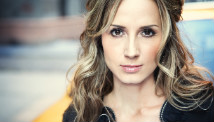 Editor's Note: Singer-songwriter Chely Wright is the author of the autobiographical book "Like Me." Her coming out process was filmed in the documentary "Wish Me Away." This is an edited version of her conversation with CNN about Anderson Cooper's announcement, why she came out, and what happened after.
by Chely Wright, Special to CNN
I'm happy about Anderson (coming out) and that he didn't allow himself to be a whisper.
It's inspiring.
I hid for 16 years of my career.
It became worth it to hide - until it is not worth it anymore.
Video: Chely Wright on coming out as a lesbian
I was afraid.
Singing is not my hobby, it is my job. I was afraid of losing my livelihood. FULL POST