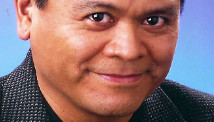 Editor's Note: Emil Guillermo is a journalist and author. He writes for the Asian American Legal Defense and Education Fund and at www.amok.com.
By Emil Guillermo, Special to CNN
(CNN) - Asian-Americans helped build the transcontinental railroad in the 1860s. They are being used again, this time to build the case to destroy something that has transported millions of people of color to a more equitable life in America: affirmative action.
In Fisher v. Texas, which the Supreme Court began hearing Wednesday, Abigail Fisher, the plaintiff, seems to have done remarkably well.
Not bad for a good, but not great, student who failed to qualify for admission to the University of Texas in 2008 under the state's Top Ten Percent Plan.
The plan calls for all students in the top 10% of their graduating classes, regardless of race, to be automatically admitted to state schools. After that, the school fills out its admitting class by considering remaining students on a number of factors - among them, race.
The policy was designed to keep with current law, which allows for affirmative action.
Fisher, who was in the top 12%, didn't make the cut.
Fisher's case is weak. To bolster her claim, she has enlisted the aid of Asian-Americans.
In the main brief of her case, Asian-Americans are mentioned 22 times. Her lawyers argue that the Texas system is race-based and favors blacks and Hispanics over whites and Asians. FULL POST