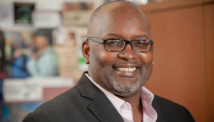 Editor's Note: Eric Deggans serves as TV/media critic for the Tampa Bay Times, and is the author of "Race-Baiter: How the Media Wields Dangerous Words to Divide a Nation," a look at how prejudice, racism and sexism fuels some elements of modern media.
By Eric Deggans, Special to CNN
(CNN) - One year after an explosion of press attention made it one of the most-covered news stories in the first half of 2012, the question seems obvious:
Has the news media learned anything about covering race issues in the wake of the Trayvon Martin shooting?
Considering how little attention the case garners today, it is tough to remember just 12 months ago how much journalists obsessed on this story, when unarmed, African-American teen Martin was shot and killed by neighborhood watch volunteer George Zimmerman in a Sanford, Florida, subdivision on Feb. 26, 2012.
For a time, it was second in coverage only to the presidential election, as Martin's family pressed a reluctant Sanford police department and Florida prosecutors to arrest Zimmerman for fatally shooting a teenager armed only with a bag of candy and a bottle of iced tea. As condemnation of Zimmerman grew, a cadre of supporters, often in conservative media outlets, arose to decry a rush to judgment while challenging the family's depiction of Martin as an innocent child.
Too often, news audiences seemed caught in the middle, ill-served by coverage which often seemed focused on serving the news outlet's own priorities as much as informing the public.
Twelve months later, it may seem as if little has changed. But there are subtle lessons to be learned about the shape of modern media from the impact of the Trayvon Martin case, some that are shared in "Race-Baiter: How the Media Wields Dangerous Words to Divide a Nation:" FULL POST