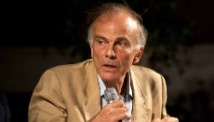 Editor's Note: Occasionally, In America looks at global incidents to examine how other countries are grappling with identity and what America can learn. With taunts of the first black Cabinet member in Italy, followed by the disruption of a soccer game after another racist incident, Italy is in the news lately. James Walston is chair of Department of International Relations at the American University of Rome. He founded AUR's Center for the Study of Migration and Racism in Italy in 2008 and blogs at Italian Politics with Walston.
by James Walston, special to CNN
(CNN) - Recently, Cécile Kyenge, Italy's first black cabinet minister, was insulted by the xenophobic Northern League within hours of her appointment.
On Sunday, Roma soccer fans shouted racist insults at Milan's Mario Balotelli, who is black, and also one of Italy's  national squad's top strikers.
One of Italy's old self-images was italiani brava gente – Italians are decent folk. But that ingrained idea is being challenged by recent events and history. FULL POST