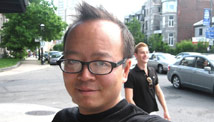 Editor's Note: Jeff Yang writes the column Tao Jones for The Wall Street Journal Online. He is a regular contributor to WNYC radio, blogging for "The Brian Lehrer Show," and appears weekly on "The Takeaway." He previously wrote the Asian Pop column for the San Francisco Chronicle and was founder and publisher of A magazine. He tweets @originalspin.
by Jeff Yang, Special to CNN
(CNN) - February seems so long ago, and the breathless, ecstatic adrenaline rush of the phenomenon we called Linsanity feels remote and surreal, like a half-remembered dream.
But here we are, with Lin, now a member of an exciting but inconsistent young Houston Rockets squad, back in the headlines again. Unfortunately, it's not for dropping three-pointers on the Lakers but for dropping quotes in an interview — quotes that in just about any other context, from just about any other player, would have gone virtually unnoticed.
Last week, Lin gave a rare, candid interview to Adrian Wojnarowski of Yahoo! Sports, in which he admitted that he'd been unprepared for the backlash that he received after the Rockets gave him a lucrative contract - $25 million over three years - based on his lockout- and injury-shortened breakout season.
Referring to vicious talk about whether he was worth the coin in locker rooms across the league — much of which bubbled up into the blogs and back pages, and some of which came from his own former teammates on the Knicks  — Lin said this: "I was a little surprised, but I wasn't shocked. I honestly feel it's part of the underlying issue of race in American society… of being an Asian-American. I haven't figured it out. I haven't wrapped my head around it. But it's something I'm thinking about."  FULL POST