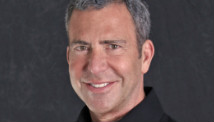 Editor's note: Jeffrey Sharlach is an author, businessman and faculty member at NYU Stern School of Business. His novel, "Running in Bed," about a gay man who finds love in the 1970s, was published this month by Two Harbors Press.
By Jeffrey Sharlach, Special to CNN
(CNN) - I often listen in awe to the stories from young gay people about their experiences being out in high school or junior high, how they went with a same-sex partner to the prom and celebrated after graduation with their gay and straight friends together. When I graduated high school in 1971, I didn't know even one openly gay person, including myself.
Certainly, even today, many queer youth still struggle with accepting their sexual identity and one doesn't need to search the news very diligently to come across heartbreaking stories of bullying and family rejection. But more and more, we're seeing scenes of out and proud young people at earlier ages.
Just this weekend, the U.S. vice president says he's OK with gay marriage.
It's probably difficult for people born in the last two or three decades to imagine the shame and revulsion once foisted upon gay people by society, government policies and especially the media. I came out in the 1970s, at age 24, and that was the most exciting experience in my nearly 60 years. The exhilaration of finally accepting myself for who I was has never been equaled.