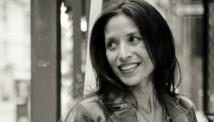 Editor's Note: Jenni Monet is a journalist and documentary filmmaker who writes and makes films about Native and indigenous issues.  She is a frequent contributor to Indian Country Today Media Network  and a tribal citizen of the Pueblo of Laguna.  She tweets @jennimonet.
By Jenni Monet, Special to CNN
(CNN) - As another Native American Heritage Month comes to an end, I have to stop and ask, did anybody other than Native folks even know it was taking place?
Since 1990, the federal government has declared the month of November a time to pay tribute to the achievements of the nation's estimated 2.9 million American Indians and Alaska Natives (PDF).
The national observance is not unlike America's commitment to African-American history month or Hispanic heritage month, a time of year that major brands have come to commercialize in recent years.
Thanksgiving is some Native Americans' 'Day of Mourning'
But little recognition has been paid to the original inhabitants who represent 1% of the U.S. population. Instead, this November, there has been a series of cultural gaffes made by celebrities, journalists and large companies during a time set aside to acknowledge and honor Native people. FULL POST