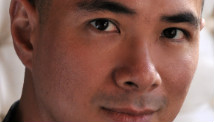 Editor's note: Michael Hung is a chef and writer living in San Francisco.
By Michael Hung , Special to CNN
(CNN) - I've had three long-term relationships in my life, all with Asian-American women.
It was never a conscious decision to date solely within my race. In most ways, those relationships were serendipitous. I'd met intelligent, loving, beautiful girls who happened to look like me. But this idea of happy coincidence, in retrospect, was only partially true.
While I never sought to date within my race exclusively, it was, admittedly, easier.
Easier in that she automatically removed her shoes at the door. Easier in that I could slurp noodles and gnaw at chicken feet unabashed. And easier on my ego, because when I asked an Asian-American girl for her phone number, she would give it. I would not be dismissed, or snickered at, or overhear, "But he's Asian," from a friend on the wing.
I attributed the difficulties of dating outside my race to external factors, social forces I'd learned about in college classes. I was subject to the model minority myth: How sexy can a calculator toting conformist be? I was castrated by the Chinese Exclusion Acts,  where my own government once declared it illegal for my ancestors to enter the country I call home.
Those laws, in existence until 1943, surely pervaded public consciousness, and as such affected my love life, didn't they?
Mainstream media portrayals of Asian males -Mr. Yunioshi in "Breakfast at Tiffany's," William Hung on "American Idol," Hiro Nakamura, the Japanese computer engineer turned supermutant on "Heroes" - consistently cast me as a socially deficient, sexless jester.
Even the Korean pop music phenom, PSY, is known for his clownish giddy-up dance rather than his ability to croon to the ladies like Frank Sinatra.
Under these influences, how can the American public see a young Asian-American man as an object of desire? How can a young Asian-American man see himself as a sexual creature? FULL POST