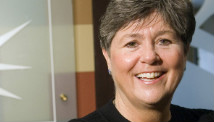 Editor's note: Nancy Keenan is president of NARAL Pro-Choice America. She will be stepping down from her role at the end of this month.
(CNN) - There have been a few moments in our history when a generation has used the power of its numbers and its passion for a cause to transcend a deeply divided society and change the course of the future for the better.
We've come to one of those moments.
About every 80 years, a young civic generation has forced the nation to deal with its fundamental challenges, according to Morley Winograd and Michael Hais in their 2011 book, "Millennial Momentum." They cite the American Revolution, the Civil War and the New Deal as key moments when a generation came together to create a different society.
Today's millennial generation is the next generation to wield that power.
I am a baby boomer. In the late 1960s, my generation rallied to make the case that a woman's right to choose should be guaranteed, and, 40 years ago on Tuesday, the Supreme Court handed down the landmark Roe v. Wade decision. Today, younger than 40 have always lived in an America where abortion has been legal.
Read Nancy Keenan's full column