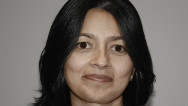 Editor's Note: Sayu Bhojwani is the former commissioner of immigrant affairs for New York City and the founding director of The New American Leaders Project. She is also a Ph.D. candidate in politics and education at Teachers College, Columbia University. Born in India, and raised in Belize, she is a naturalized citizen of the United States.
(CNN) - Something is strikingly similar about both conventions - a strong, underlying narrative that seeks to personally connect the speakers to viewers.
On the stage in Tampa, Florida, and Charlotte, North Carolina, we're hearing many American stories, rooted in the values that all Americans respect - hard work, individualism, family, community.
American voters want to know the person they're entrusting with the important business of running our country, and the convention speakers are trying to offer us perspectives on who they are by sharing key details of their biographies.
At the Republican National Convention, Condoleezza Rice shared her parents' hope that, though she could not sit at a Woolworth lunch counter as a child, she could be anything she wanted to be as an adult. Marco Rubio was influenced by his grandfather's understanding that his grandson had no limit because he was an American.
At the Democratic National Convention,  Julian Castro told how his mother's work enabled him to now hold a microphone, rather than a mop.  Michelle Obama shared how her father's hard work, despite having multiple sclerosis, was rooted in his desire to build a better life for his kids.