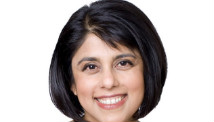 Editor's Note: Sumbul Ali-Karamali is the author of The Muslim Next Door: the Qur'an, the Media, and that Veil Thing, and Growing up Muslim: Understanding the Beliefs and Practices of Islam. She is on the steering committee of Women in Islamic Spirituality and Equality and is a member of the Muslim Women's Global Shura Council, both of which aim to promote women's rights and human rights from an Islamic perspective.
By Sumbul Ali-Karamali, Special to CNN
(CNN) - My father always told me never to talk about religion, politics, or other people's children. He was part of a generation of American Muslims who wanted to stay quiet and assimilate into American life and not rock the boat. Growing up in Southern California, I tried to follow his advice.
But after 9/11, I found that I, along with other American Muslims,  have had little choice but to talk about religion.
Although countless Muslims have condemned the acts of 9/11 in the United States and worldwide, American Muslims became objects of suspicion.
The 9/11 terrorists broke numerous laws of Islam and were denounced as mass murderers by Islamic religious leaders.  Even so, Islam is viewed as a religion preaching violence.
In the aftermath, amidst the fear and anger, many American Muslims realized that the reason Americans were so quick to believe the worst about Muslims after the horrific attacks of 9/11 was that Americans knew little about even the most basic tenets of Islam.
And we realized that if we didn't explain our beliefs and traditions, then other people would write our stories for us.
Despite our efforts, that's exactly what has happened.
Although 9/11 did compel some Americans to learn more about Islam, it also triggered a wave of anti-Islam feeling that has burgeoned.  And though there have been interfaith initiatives, books on Islam, documentaries, education efforts, and shows like "All-American Muslim," polls show that Americans' negative views of Islam have increased since 9/11, not decreased.
Such trends cannot help but discourage even the most optimistic of American Muslims; many of us are more fearful now than a decade ago, and entire Muslim communities feel besieged.
FULL POST