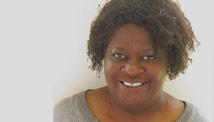 Editor's Note: Tangela Ekhoff is an inspirational speaker and ordained elder in the Presbyterian Church, U.S.A. She blogs about marriage, motherhood and life in Oklahoma at Homegirl on the Range, and has written for CNN's Belief blog.

By Tangela Ekhoff, Special to CNN
(CNN) - On a hot, steamy summer day, when I was 10 or 11, my mama and I rode downtown to do a little shopping. As we got off the bus, I looked up the street toward the Alabama capitol. In the distance, I could see a gathering of people. Glimmers of white dotted the crowd like cotton on the side of a dusty road.
After we finished, we got a couple of cold Cokes to go. My mother was uneasy that day.
"We need to hurry up and get home before something bad happens," she said.
As we got on the bus and headed up the street, I could see more clearly. It was a Ku Klux Klan rally. I looked out the window and right outside the Dexter Avenue Baptist Church, where Rev. Martin Luther King's voice became the sound of movement, there was a grown man and a little boy of maybe 5 or 6. They both wore matching white robes and hoods on their heads so you couldn't make out their faces. The little boy looked me square in the eye, gave me the finger, and screamed "Dirty N-–." The man patted the boy on the back and laughed out loud. This wasn't 1955. It was 1979 or 1980.