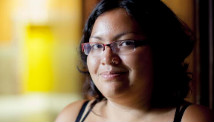 Editor's note: Tania Unzueta Carrasco lives in Chicago and was born in Mexico. She is an undocumented immigrant, a journalist, former radio show manager and producer, and co-founder of the Immigrant Youth Justice League, an undocumented youth-led organization.
By Tania Unzueta Carrasco, Special to CNN
(CNN) - How much hope can I have in the president who has deported people at a higher rate than any other in the nation's history?
Asking myself this question is how I kept my emotions in check as I watched President Obama announce his policy on immigration Tuesday. After living undocumented for more than 18 years, and hoping that one day my sister, my parents and I won't be considered "illegal" in this country, my mental health often depends on managing my expectations.
My family and I came to the United States when I was 10 years old from Mexico City, and have grown up thinking of Chicago as our home.
Although my parents have tried to shield us from the effects of being undocumented, we know that my father used to walk the streets looking for work, and that more than once his wages were stolen, with employers using his immigration status as a threat.
I think of my father as the most likely member of our family to be racially profiled, and I worry every time he goes to work. My mom has seen her father only once in the last 18 years, and I know she misses him and her sisters and brothers. And my sister and I are reminded every day of the barriers of being undocumented, when we cannot apply for a job, a scholarship, or pay the bond of a family friend in deportation proceedings.
The first time I watched President Obama speak about immigration, I felt the excitement in my stomach. It was sometime early in his presidency, when many of us still believed he would make significant changes in immigration policy during his first term.
I listened to every word he said - that we are a nation of immigrants - and allowed myself to imagine a life without worrying my dad would not come home; a moment when my mom might get to see her dad and her sisters again without having to chose between our lives here and her family; a chance for my sister and I to be evaluated on our work and contributions and not our immigration status; a moment to live without fear. But the actions of his government failed to match his words.
Read Carrasco's full column