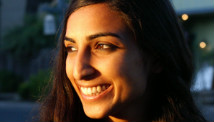 Editor's note: Valarie Kaur is the founding director of Groundswell, an initiative at Auburn Seminary that combines storytelling and advocacy to mobilize faith communities in social action. Her documentary "Divided We Fall" examines hate crimes against Sikh Americans after 9/11. Kaur studied religion and law at Stanford University, Harvard Divinity School and Yale Law School, where she now directs the Yale Visual Law Project. Follow her on Twitter: @valariekaur.
By Valarie Kaur, Special to CNN
(CNN) - Last Saturday morning, when media crews outside the Sikh gurdwara (house of worship) in Oak Creek, Wisconsin, packed up their trucks to chase the news of Mitt Romney's choice for vice president, Sikh Americans were left reflecting on six days of unprecedented national attention. After the shooting of six people in a Sikh gurdwara, a stream of national leaders, from the Rev. Jesse Jackson to Gov. Scott Walker, came to offer condolences and support. But there was one person missing.
It was you, Mr. President.
Let me be clear: Your administration's response to the massacre has been strong and swift. Attorney General Eric Holder addressed mourners with compassion and resolve at the Friday memorial.: "In the recent past, too many Sikhs have been targeted and victimized simply because of who they are, how they look, and what they believe," he said.. "This is wrong. It is unacceptable. And it will not be tolerated." Joshua Dubois from the White House expressed his full commitment to helping us with sustained interfaith and education outreach.
The FBI and Department of Justice were at the top of their game, investigating the attacks as both an act of domestic terrorism and a hate crime.
But we need more than government cooperation. Our community needs the deeper spiritual and emotional assurance that we are welcome to live, work and worship as fellow Americans. The gunman, Wade Michael Page, was a member of a white supremacist group that wishes to destroy our very claim to call this country home. After the attack we endured, Sikh Americans, and all brown and black people in America for that matter, need our president to directly show the nation that we belong here.