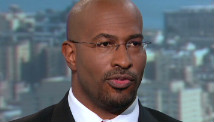 Editor's note: Van Jones, a CNN contributor, is president and founder of Rebuild the Dream, an online platform focusing on policy, economics and media. He was President Obama's green jobs adviser in 2009. He is also founder of Green for All, a national organization working to build a green economy.
By Van Jones, CNN Contributor
(CNN) - In the wake of Chris Dorner's death, much of the talk has already turned to his political views.
In the wake of a tragedy, it is understandable to ask why this happened. It is appropriate to discuss ways to keep it from happening again.
But we should draw the line at suddenly giving an exalted place in our national discourse to the political rantings of a murderer.
Before he met his end, Dorner took the lives of several human beings and wounded a few more. One of those killed was a father of two. The law enforcement officers killed were simply doing their jobs, trying to keep us safe.
Today, with the families of the dead still grieving, it is very hard for me to shift away to focus on Dorner's political views.
The families of the victims are still in shock and mourning. Think of their friends and relatives, who are still shocked and devastated. How much would it hurt them if they turned on the TV and heard, instead of tributes to those lost, pundits going on about a crazy man's Facebook manifesto?
We should not be "using this occasion" to debate various theories of racial justice - not while the blood of the innocent is still fresh on the ground. Dorner's actions have invalidated his notions of justice; killing innocent people is not the proper method to advance the cause of justice, period.
Furthermore, why should any of us participate in giving Dorner exactly what he wanted? We should not validate his quest for attention by discussing his political thinking, especially not while mourning families are planning funerals.
FULL STORY